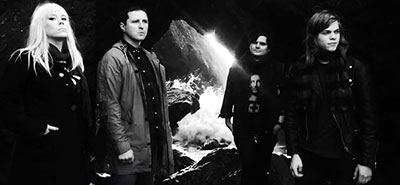 With the self-ascribed motto "Play loud, Dance slow," Portland-based Shadowhouse sits at the intersection of post punk and goth. Singer/guitarist Shane and Ashley on synth grew up in the punk clubs of SE Portland and formed the band in early 2012, along with Josh on drums and Justen on bass. Their songs combine a love for new peer bands and a deep fascination with bands of the past.
They self-released 200 of their first 45 in December 2013 which quickly sold out, followed by a limited re-release of 100 in July 2014 that was also gone before the end of the year. December 2014 Mass Media Records released SHADOWHOUSE's first LP 'Hand in Hand' to immediate anticipation and acclaim.
After establishing their place amongst the sea of amazing post-punk bands coming out of the Pacific Northwest, and multiple West Coast USA and Canada shows, SHADOWHOUSE is finally coming to Europe in October 2015.