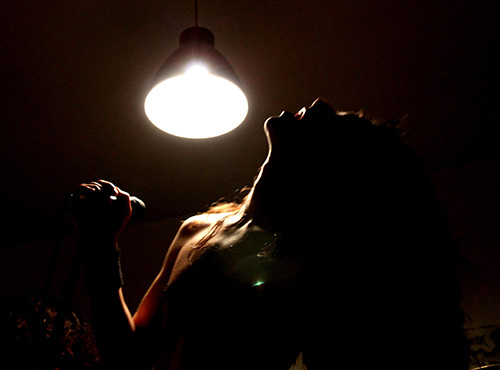 Night Train To Nowhere est le "side-project" d'Xzvrey, leader du groupe de post-punk/deathrock français : The Last Oath. Chaque EP et album racontera une histoire sombre et inquiétante où les démons rôdent par milliers.
Le projet est né durant l'automne 2015, après une longue et épuisante session de composition pour le projet principal d'Xzvrey. Ce fût le déclencheur d'un nouveau challenge. Xzvrey décida de mener de front deux projets séparés : son groupe principal (The Last Oath) et un second (Night Train To Nowhere) pour étancher sa soif de composition.
Durant la fin de l'été 2016, Xzvrey mit la touche finale à l'enregistrement de son premier EP 4 titres : Dance Of Horns; une semaine avant un concert de son groupe principal. Le 23 Septembre 2016, The Last Oath joue à Bordeaux devant un petit groupe de passionnés de la scène underground. Jean-Philppe Torres (Vivid Atmosphere, Darkline Spectrum) s'occupait du son à la demande des organisateurs. Les deux hommes eurent une longue et passionnante discussion sur la scène Post-Punk/Goth. Ayant été impressionné par les compétences de Jean-Philippe (qui fit ce soir-là un son irréprochable pour le groupe), Xzvrey proposa à ce dernier de travailler avec lui sur son nouveau projet : Night Train To Nowhere.
Aujourd'hui, les deux hommes travaillent ensembles à partir des matériaux bruts qu'Xzvrey extrait de son cerveau torturé. Une étrange alliance grandit, témoignage de ce que les rencontres ont de magiques et d'inattendues.
Les premières pierres d'un sombre édifice sont posées. L'avenir Impie d'NTTN se construit peu à peu sur ces fondations.